The month start­ed with some real­ly love­ly sum­mer weather.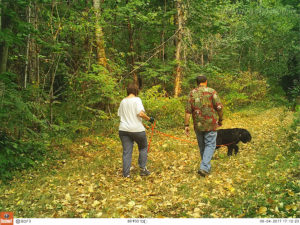 The deer are appear­ing; some look­ing bet­ter than oth­ers. There's still one speck­led fawn — but there isn't a decent pic­ture of him/her.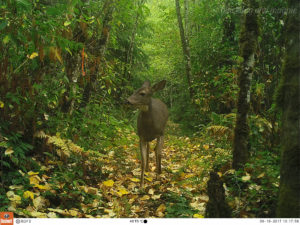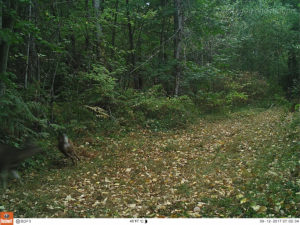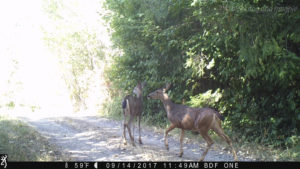 The coy­otes are still around. Noth­ing of them on the dri­ve­way this month. But they made the oth­er two cameras.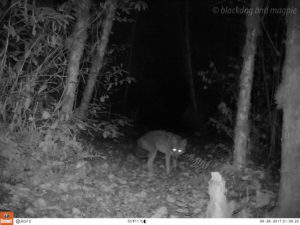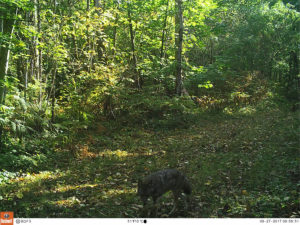 Only one bear sight­ing. I'm sur­prised because we've seen a lot of scat. Espe­cial­ly ear­ly in the month on the dri­ve­way. I think this is the sow, sans cubs. Or it might be one of the cubs. They've got­ten to be about her size. (The male is a lot bigger.)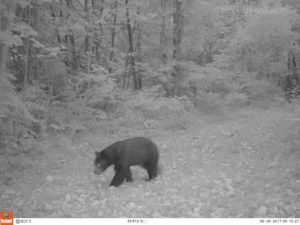 And it's hunt­ing sea­son up here. So…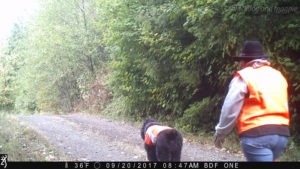 We had the usu­al col­lec­tion of amus­ing vehi­cles. Bikes that trav­el on the back of lit­tle trucks.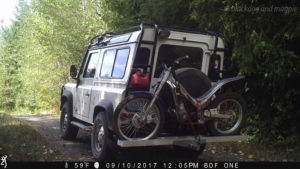 And oth­er bikes that don't fit into trucks.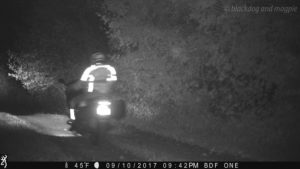 and the side of the huge ass motorhome that we bor­rowed to take to a dog tri­al. Ver­dict. Motorhomes are awe­some at dog tri­als. The dog is not impressed. He gets sea­sick in most vehi­cles and this one is worse. (Camp­ing on the oth­er hand is an all time favorite activ­i­ty of his.)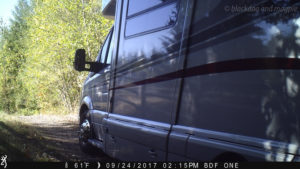 Once again our neigh­bor begins to do bat­tle with the falling leaves.
By the end of the month as we went out to pick up the cam­era cards the weath­er had changed sig­nif­i­cant­ly. Not a Hawai­ian shirt to be seen.