In the last couple of months we've seen more predators and fewer deer than in the past.
We do have a nice little buckling hanging around.
And here he is with one of the does.
We also had a couple of very exciting days when we were being visited by a bear. We saw him wander across the work yard one evening around supper time. Here's a picture of him cruising down the driveway. And we found him again a couple of nights later chowing down on the bird feeders. The first time in over 15 years that we've had problems with the bird feeders. It's sad that I can't watch the summer bird from my office windows.
We've seen a lot of the coyotes. Frequently as a pair. There has been no sign of pups, perhaps they are too young? This is the first year that we've seen them together.
Once more walking up the driveway in the middle of the night.
The big news however is that we have captured on camera the collared female cougar that haunts our neighborhood.
Sadly it seems that she was in the neighborhood attacking livestock. None of ours but folks just up the road lost an alpaca.
Sometimes you get just plain odd or lucky shots. The driveway camera is sometimes triggered by birds landing on the rail that you can see on the left in these pictures. Here's lucky shot of a bird flying away.
We also capture the occasional strolling neighbor.
Summer is almost over – we'll probably only mow one more time. But in the middle of summer it's a constant battle against the overwhelming vegetation. Here Jim is mowing the lower pasture lane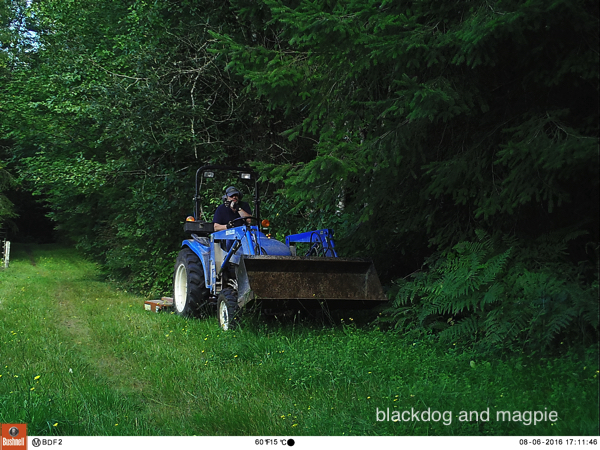 And this one last shot of ourselves coming back from a concert in the sidecar.