We moved that cam­eras back in ear­ly May and are now see­ing dif­fer­ent things. Lots of preda­tors wan­der­ing around the forest.
One cam­era is locat­ed at the end of what we call the for­est road, the wide path that runs par­al­lel to the prop­er­ty line in the woods. The oth­er is on a small trail behind the manure pile that leads to the neigh­bor's dri­ve­way. This is the one that I thought might show us the tran­sit­ing coy­otes and help pin point their den. But now I"m not at all sure. There is a lot more coy­ote activ­i­ty on the for­est road camera.
Some high­lights: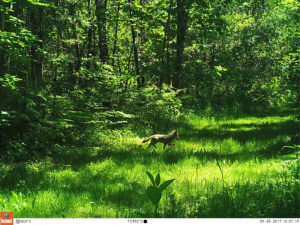 We're won­der­ing about how many coy­otes there are and whether or not we can iden­ti­fy them. In par­tic­u­lar are the coy­ote above and this one below the same ani­mal? We've had pic­tures of two togeth­er in the past. And the one below looks heav­ier set than the one above.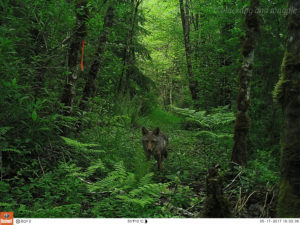 In fact this round we have col­lect­ed the full set of predators.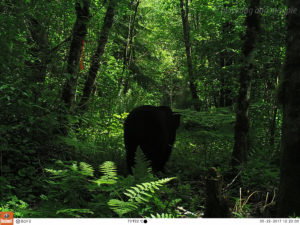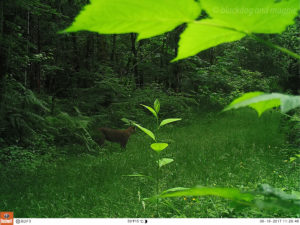 This is not the cougar that we've seen before. This one does­n't have a col­lar. So there may be two work­ing over­lap­ping ter­ri­to­ries here.
And per­haps a bit fright­en­ing… our neigh­bor walk­ing her dog. Check out the time stamp — com­pare it with the one on the cougar pic above.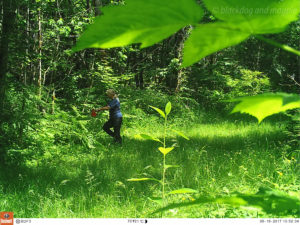 And some things can't be iden­ti­fied oth­er than a pair of glow­ing eyes in the night.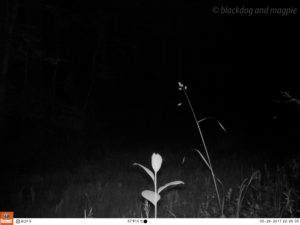 Then there's the usu­al sus­pect. The Big G out for a stroll.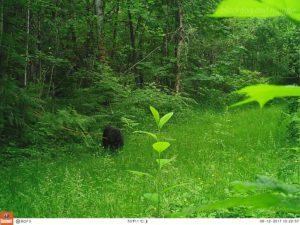 Jim has, of course, spent some time in the woods this spring. Here he is "road test­ing" the big dual sport bike before a back coun­try adven­ture in BC.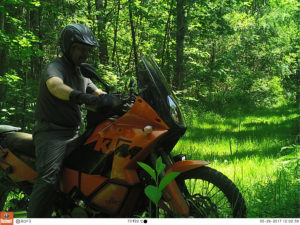 And mow­ing, because it's spring and the mow­ing nev­er seems to end.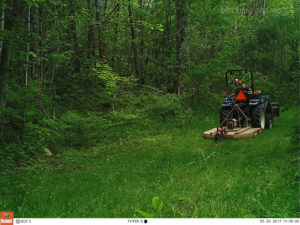 And here we are — walk­ing up to change the cards in one of the cameras.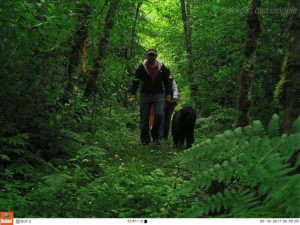 And because there is always one acci­den­tal­ly arty shot.