Had a bit of a shock­ing real­iza­tion a few min­utes ago. As I write this, I am sit­ting in a McDon­alds in Gatesville, Tx. I am here on a motor­cy­cle that was sit­ting in my garage in a Seat­tle sub­urb 12 days ago. I am as far from home on a motor­cy­cle as I has ever been. Hmmm, pret­ty cool.
Today's ride so far was from Lub­bock to my cur­rent loca­tion. About 320 miles, count­ing a cou­ple of sign-read­ing fail­ures. I am going to meet my sis­ter for din­ner tonight, last chance to see each oth­er before she ships out to Iraq for a year. Then I'll ride down the road a piece to vis­it my friends Matt and Jodi. I have new tires wait­ing there for me, will do an oil change on the beast, and relax for a cou­ple of days. It will be good to not ride for at least a day. Fri­day, I'll be head­ed north to viist fam­i­ly in Pano­ra, IA.
Well, the last 110 miles of the day held most of the excite­ment: first, about 45 miles north of Austin, a piece of OSB about 12×16 came fly­ing out from under a truck and hit me on the left foot. Just a glanc­ing blow, but I still had to pull over and let my vision clear. Ow. Doesn't appear to be any dam­age done, though, most­ly just shock. It hap­pened so fast, there wasn't time to take eva­sive action. Good thing it wasn't a TV!
Then about 10 miles north of Austin, traf­fic on I35 comes to a dead stop, all three lanes. I sit there for a few min­utes, watch­ing the tem­per­a­ture on the bike rise, and watch­ing folks cut across the grassy strip that seper­ates the free­way from the frontage access road. Even­tu­al­ly, I decide to fol­low across. As soon as I get to the frontage road, it stops dead. 3 min­utes lat­er the free­way starts mov­ing again. But the frontage road got mov­ing pret­ty soon, and I'm back on the way.
But the crown­ing excite­ment for the day hap­pened ½ mile from Matt's dri­ve­way. I get to the entrance to the devel­op­ment where they live to dis­cov­er to my sur­prise, a gate. While I'm stand­ing there, look­ing at email on my phone, try­ing to remem­ber if Matt said any­thing about a gate, a gen­tle­man dri­ves up in a big cad­dy, and asks if I need help get­ting in? I explain I'm look­ing for such and such an address, and he "says, sure, fol­low me". I don't have my gear on, so I push the bike through the gate. As I do so, I knock my phone off of the seat. The dis­play hasn't been seen since. Phooey, It's only 2 weeks old, too!
So this wraps up what I've been call­ing 'Leg 2'. I am now at my far­thest point from home, and at about the ½ way point, time­wise, as I intend to be home on the 2nd of June. This first ½ has includ­ed: a bunch of great roads, a few bor­ing roads, only one day of dif­fi­cult weath­er, good friends, and many parts of this coun­try I haven't seen before. Today, with matt's help, I'll put new tires on the Tur­bo Giraffe, and change its oil, and relax.
Some pic­tures from day 11..
The wind blows here…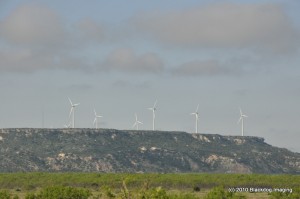 And the roads start to get better…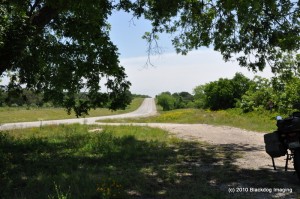 I just had to take this for Ms. Shooz (aka shiny mag­pie) and many of the oth­er wetladies…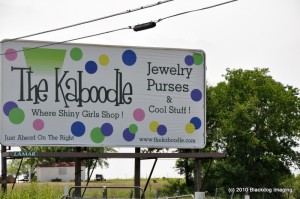 My sis­ter. We got a chance to have din­ner togeth­er before she is shipped to Irag for 11 months. I told her to keep her head down, i did­n't want to have to do all the paper­work! she said not to wor­ry, she has body armor for body parts she did­n't know she had! 🙂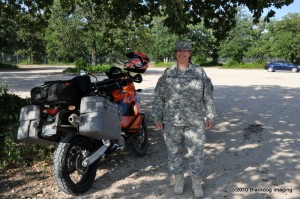 An aeros­tich at 93f. right before this, i rode 6 miles with­out it, and it's hot­ter rid­ing with­out it than it is with it. just keep drinking…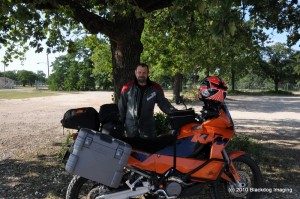 It is 3566.1 miles from my dri­ve­way to mat­t's house, via sun­fire and misc oth­er points. i think it's only about 2950 home from here, via iowa, nebras­ka, and salt lake city.