Well, I now have the engine out of the frame, and the cylin­der head and both side cas­es off. The news isn't all bad. Most of the engine looks in fine shape inter­nal­ly, as you can see here: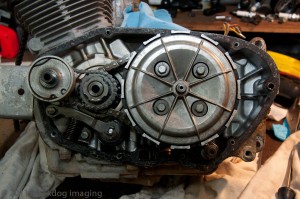 obvi­ous­ly, this engine has been sealed up, and has the low mileage indi­cat­ed by the odome­ter (5129).
There was a lit­tle bit of sludge in the bot­tom of the side case on this side, but noth­ing dra­mat­ic. remov­ing the cylin­der head, how­ev­er, revealed a whole 'nuther picture:
obvi­ous­ly, the left cylin­der (on the right in this pic­ture) had some water in it for a while.
and look­ing at the cylin­der head, we can see why: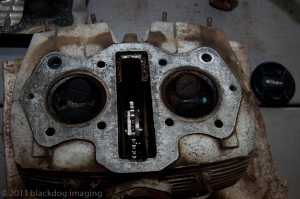 if you expand the pic­ture and look close­ly, you'll see that the exhaust valve on the left cylin­der (again, right side in the pic­ture) is slight­ly open. so water vapor got in through the exhaust pipe, con­densed into a pud­dle, which then evap­o­rat­ed and rust­ed the cylinder.
still, noth­ing here looks unsal­vagable. the cylin­ders are cur­rent­ly soak­ing in Kroil, hope­ful­ly, i can beat the pis­tons out pret­ty soon and see what kind of shape the cylin­der walls will clean up into.
thanks for read­ing. more as i dis­cov­er it!
black­dog